Embark on Unforgettable Adventures in Belize!
Belize is no ordinary destination! Blessed with fabulously warm weather year-round, easy access to the reef and rainforest, friendly and passionate guides, and safety as a primary driving force, two or even three weeks can whizz by very quickly, leaving visitors realizing that a return visit may be necessary as they have run out of time.
As adventure enthusiasts, we understand that Belize's captivating landscapes offer an unparalleled playground for thrill-seekers. From heart-pounding jungle treks to exhilarating water escapades, our Adventure tours are meticulously designed to let you explore the wild side of Belize while experiencing the adrenaline rush you crave. Get ready to create memories that will fuel your wanderlust for years to come!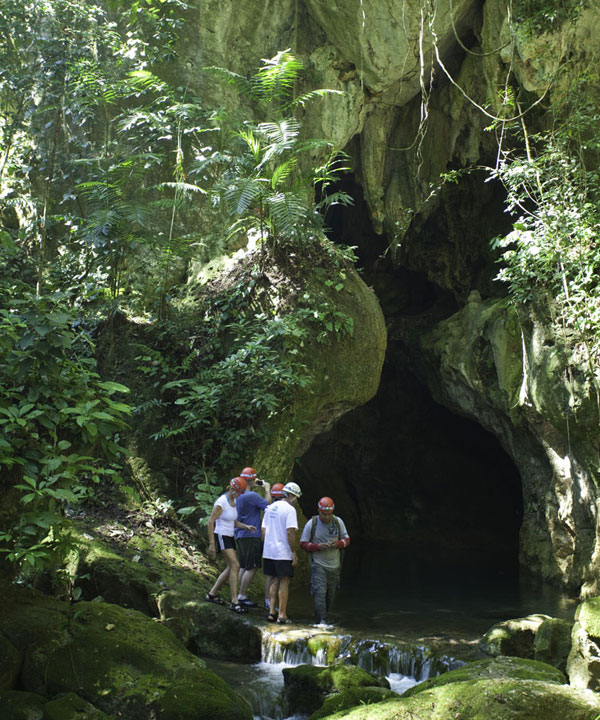 Cave systems including Actun Tunichil Muknal Cave (ATM)
Recently described by National Geographic Adventure magazine as the number one adventure experience in Central America (ATM), this trip never disappoints. Visitors are expertly guided deep into the cave systems where the ancient Maya performed offerings and sacrifices when their cities were falling. Since being discovered, nothing has been removed from the cave system and explorers are treated to underground rivers, rushing water cascades, pottery shards, intricate cave systems with stalagmites and stalactites, a human skull and a full skeletal remains.
In addition to the ATM there are many caves that have been safely developed for tourism encounters including dry caves you walk into, caves with underground rivers you float through on innertubes, caves you kayak into and caves with combinations of amazing experiences. These caves can be found throughout the country. There is even a cave you free-abseil 100 metres/300 feet to the jungle floor below – adrenalin heart pumping stuff of lore!
Maya Archaeological Sites
Caracol. Meaning 'Snail' in Maya, is one of many fully excavated historic Maya sites for visitors to enjoy. Wondrous tales are shared in equal abundance with exotic wildlife, dizzying views from lofty heights and an abundance of carefully curated highlights on each site. Caracol was once at war with Tikal in Guatemala and the site has many Stellae and the city has been exposed enough to provide a very full day of learning about the Maya world. These sites exist throughout the country.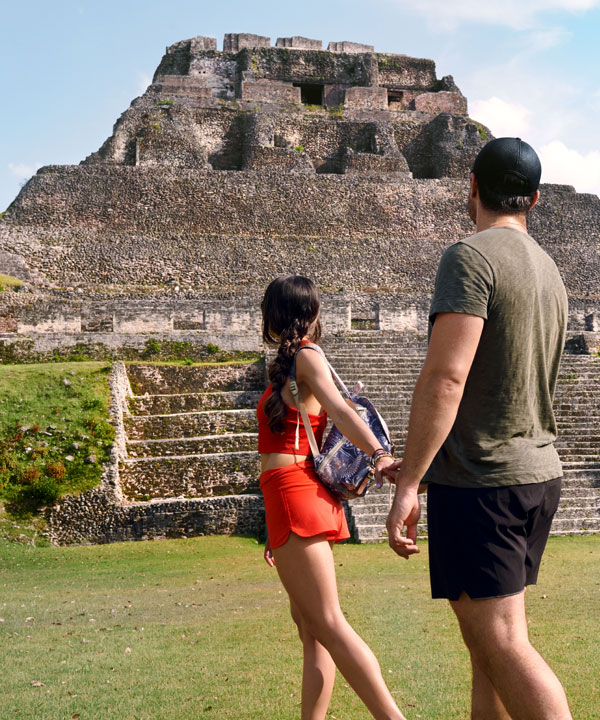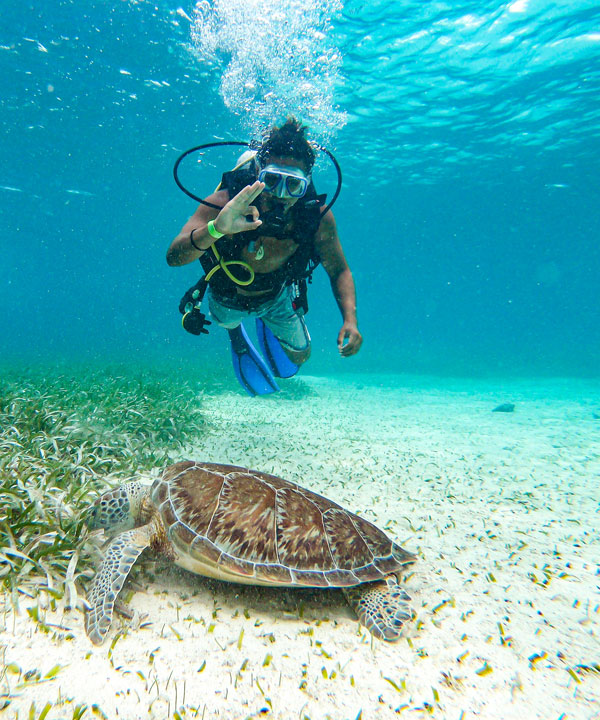 Belize boasts the second longest unbroken barrier reef in the world after Australia's' Great Barrier Reef and is fully protected. In addition, Belize has 3 of only 4 Atolls in the Western Hemisphere and the world-famous Blue Hole famously explored and brought to attention by the French underwater explorer Jacque Cousteau. There are also a number of protected marine parks where an abundance of healthy reef formations attract a vast array of colourful marine inhabitants including the very shy Manatee and Whale Sharks. Pods of dolphins, Stingrays, Nurse Sharks and colourful Fish are to be found everywhere in the crystal-clear warm waters. Whether choosing to dive or snorkel, the experiences will be remarkable and unforgettable and this includes the chance to swim and be surrounded by nurse sharks, rays and other species in the marine park.
Those not up for the 12 hour day to dive or snorkel the Great Blue Hole can book one of our fly over trips to see this marvel that is largely considered the 9th wonder of the natural world. These trips are made in 14 seat caravan planes where every passenger gets a clear view of and a chance to photograph this natural phenomenon.
Jungle and Rainforest Walks
Belize is blessed with pristine rainforests and jungles which are very accessible and in all parts of the country tours have been created which involve a very personal front row seat experience with a chance to see many exotic species of wildlife and birds at close quarters. Expert naturalists carefully visit places known to be the haunts of these often elusive creatures so that you can have a chance to see them on your visit.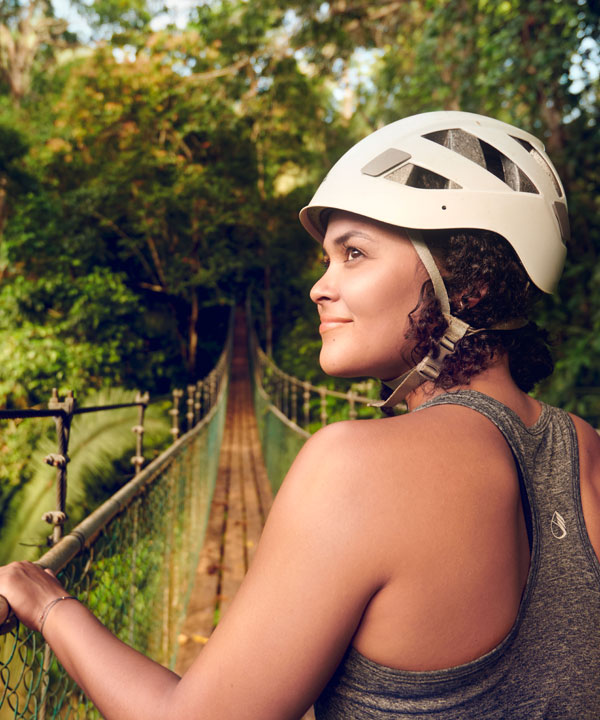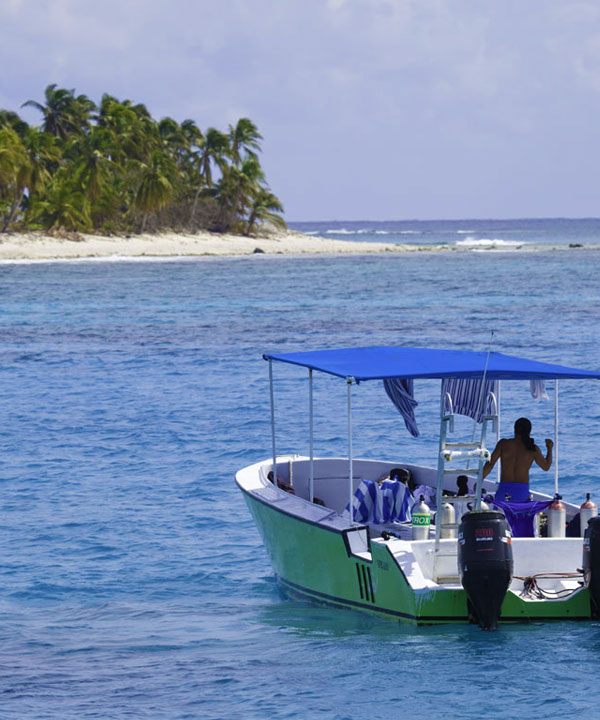 Belize is also blessed with astonishing fishing flats and is one of just a few places in the entire world where you can fish for the grand slam in one week! Deep water fishing and riving fishing area also to be found everywhere and like the diving, the guides have a knack for knowing where to head to ensure a great days fishing is enjoyed.
True as well for our expert birding guides, many of whom have been treading the same fields, forests and sites for over 30 years ensuring avid bird watchers are fully rewarded with rare sightings of aquatic, river, ocean and rainforest sightings.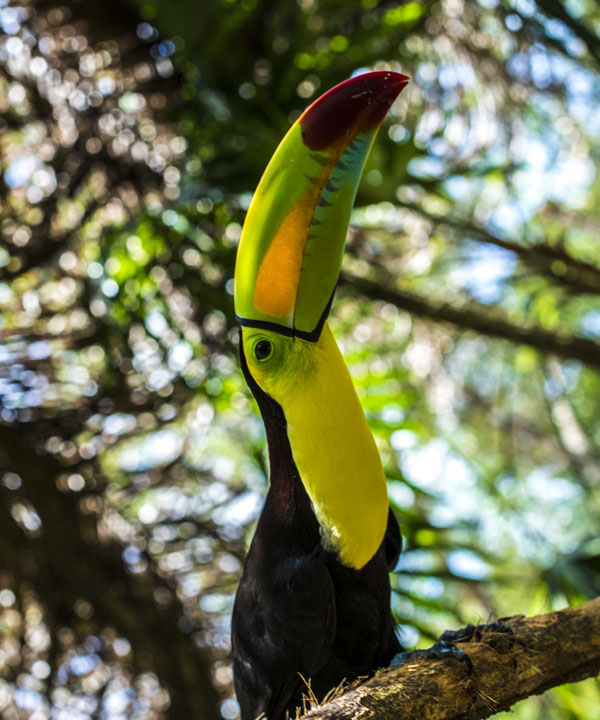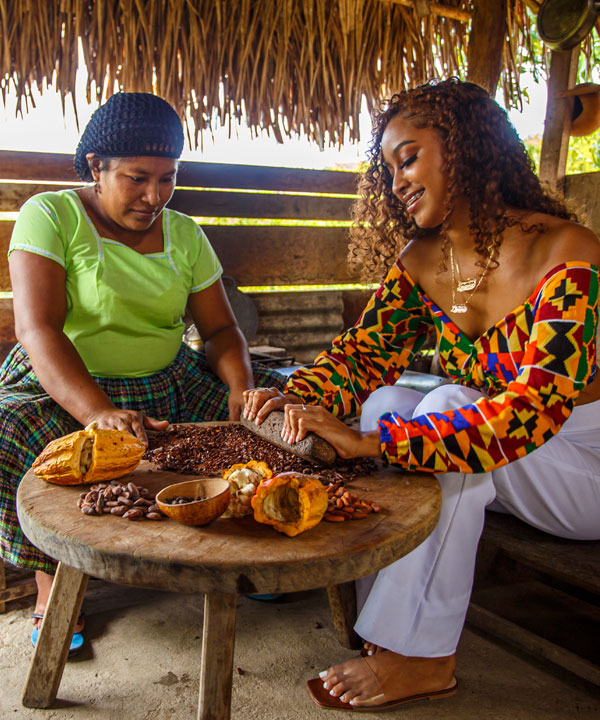 There are many chances to combine culture and food and Belize boasts 9 different cultures all co-existing harmoniously and all retaining the hallmarks of their cultures that are retained today in every-day life and allow the visitor to marvel at this special relationship of tolerance and acceptance that few countries in the world are able to replicate. Retaining their own languages, dress styles, customs and especially their food, visitors are easily treated to a cultural overload that wows visitors.
We are blessed to have neighbours who also have some great attractions to offer and we are able to package any Belize itinerary to include aspects of either or both countries as well as the ability to package with any country in Central America. Again this comes about as a bi-product of personal experiences and in choosing great partners beyond our borders.
Darah Travel through its sister company Darah Transfers and Tours and supported by other quality tour providers has visited these attractions personally so that they know what they are talking about and proposing to visitors. We are careful to include experiences during our transfers, to make the best use of visitors' time and money. Some countries are favoured with a host of easily accessible visitor options, Belize is one of those lucky countries and we are excited to build tailor-made trips around our memorable experiences.
In order to control the quality of the ride, Darah Travel set up Darah Transfers and Tours with its own small diverse fleet of modern vehicles that best suit each journey.